Originally posted on 4 January 2012.
The following is a breakdown of the most valuable certified autographs in the soccer card hobby as well as a few who surprisingly don't have a certified autograph as of yet and some players to look out for in the future. Note that I didn't include Futera cards in this assessment due to their dubious nature.
Roberto Baggio - 'Il Divin Codino' or The Divine Ponytail as he is affectionately known has a huge following not only in Italy but also in Asia which is where his two certified autographs were released back in the early 2000's. The 2003 Panini Calcio Cards auto (hideous sticker BTW) pictured below has a low print run of 100 and has been known to sell for well over a staggering $1,000.00 USD!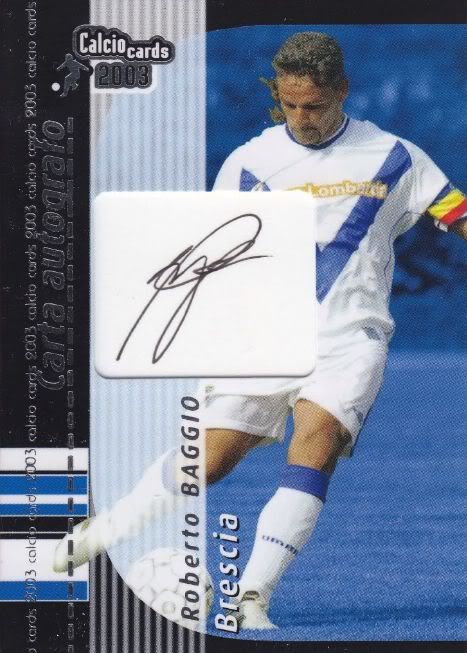 David Beckham - Here in the USA David Beckham is a massively overrated footballer and his signed card's prices reflect that. Many fans of the game here in the States regard him as a legendary player on par with the likes of Pelé, I shit you not! I suspect this is also the case in east Asia where his autos also command a hefty price. Capitalizing on his inflated reputation as well as pop culture icon status, Upper Deck pimped his cards as the main selling point in their excellent Man Utd products and apparently they sold very well, thanks in no small part to Becks. Well past his prime now, his signature remains among the most valuable in any UD soccer release.
George Best - The flamboyant Northern Irishman has several autographed cards in Upper Deck's various Man Utd releases.
Fabio Cannavaro - Cannavaro.
Cristiano Ronaldo - Cristiano is hugely popular with contemporary collectors and is perhaps the most sought after signature of any footballer right now. He has a small selection of Upper Deck Man Utd autos from the mid 00's, unfortunately they're all sticker autos but still very desireable among collectors. Despite massive popularity CRonaldo surprisingly hasn't had another certified auto issued in nearly a decade.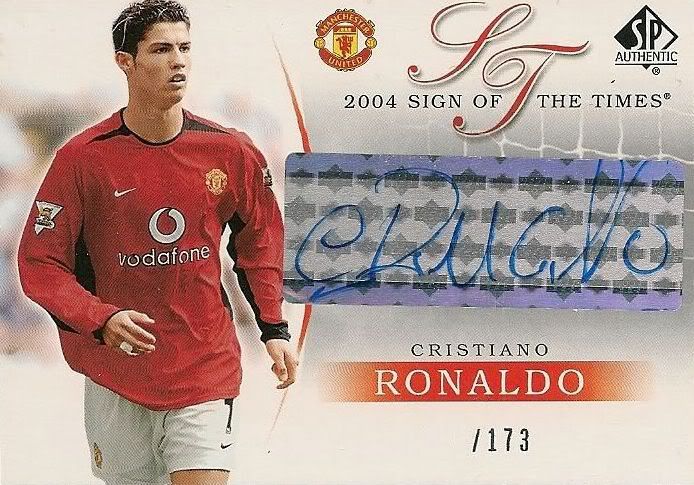 Alessandro Del Piero - 'Pinturichio's only certified autograph was released all the way back in a 1998 Juventus collection by Upper Deck. This on-card auto has a scarce print run of apparently only 20 copies. It's so rare that I've only ever seen 1 on an online auction and as you can imagine it sold for a some serious cash, well over $1,000.00 if I remember correctly.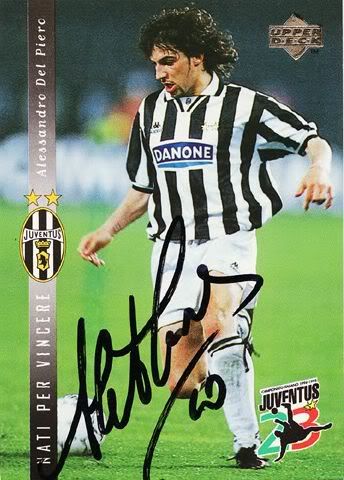 Landon Donovan - Landon is the undisputed favorite for US soccer collectors and his autograph's prices definitely reflect that. Having recently signed an exclusive contract with Upper Deck has seen his certified signature become more common lately and as a result his prices have dipped a bit. The highest end Donovan autos can still go for over $300.00 though, some serious money.
Ryan Giggs - The Welsh Wizard has a nice selection of autos from both Upper Deck and Topps including on card and sticker autographs. The United legend's relatively wide selection of autos has not really hurt his auto's values which remain strong. I reckon when he retires his prices will only see a boost.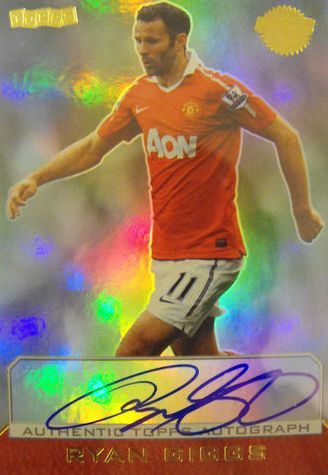 Mario Gómez - .....
Thierry Henry - UPDATE: Titi has recently joined MLS and as a result he now has at least a couple of certified autos which usually sell for 3 figures.
Andrés Iniesta - Playing in the enormous shadow of Lionel Messi, Iniesta is a bit of an underrated commodity IMO. It's a very different story on his 3 certified autos though. Each one is are extremely rare and in the rare event that one does show up for sale, they perform very well on the secondary market. The scarce World Cup auto from below can go for upwards of $500.00.
Kaká - The autographed card pictured below is Kaká's sole certified autograph trading card. Due to it's rarity (/50 serial numbered copies) and despite the hideous sticker this one sells for big bucks, even nearing the $1000,00 mark on occasion.
Roy Keane - The legendary long time Man United captain didn't sign as much as the other Utd icons of the time, Beckham, Giggs and Scholes. So his auto is relatively rare and sells very well on the secondary market, with a premium price on awesome on-card autos like the one below.
Frank Lampard - .Lampard's sole Panini auto sells for 3 figures, while a very rare 2005 Topps England issue also sells for 3 figures but is much rarer.
Paolo Maldini - AC Milan and Italian football in general have a massive following in the far east of Asia. The legendary captain and symbol of Milan for decades has earned him extreme popularity among Asian collectors and has led to extreme prices for the few auto Maldini has. $1000.00 is not unheard of for some of his inked cards.
Nakata Hidetoshi - The most prolific icon of Japanese football from the 90's to the mid 2000's and possibly of all time, Nakata is hugely popular among Japanese collectors who tend to be a very dedicated and hardcore bunch. This inevitably leads to huge prices on his many autographs. His autos sell for around $300.00 - at the lower end! Higher end ones sell for $1000.00 + easily.
Pelé - Edson Arantes do Nascimento, as is his given name, has a series of autographed cards from Canadian card brand, SportKings. They're not the best designed cards out there but they do feature solid on-card autos. These tend to sell well but not as well as you might think for a player many consider the greatest of all time. Usually somewhere in the $250.00 to $400.00 range.
Ronaldinho - Ronaldinho only has 1 certified auto and it is also a jersey card. The signature on it is on-card which is a rarity. The going rate on these gems is close to the 1 grand mark.
Ronaldo - The original and best of the Ronaldo's as far as I'm concerned has the 2002 Panini World Cup auto in the pic below and a few DS (now defunct) auto's to choose from. Not even the fugly white paper/sticker that Panini used for Ronaldo's signature can stop 'O Fenômeno's sig from fetching $500.00 and beyond!
Francesco Totti - ................
Robin van Persie - This flying Dutchman's 2 Panini autos sell for big money on the rare ocassion that they do surface. his signed cards are from the 2010-11 Panini Champions League Premium set and the 2010 Panini World Cup Premium product.
Mark Viduka - The aussie has an auto issued in 2006 by Australian manufacturer Select which has been known to sell for over $600.00 AUD.
Xavi - Another diminutive undervalued Spanish player who some even consider to be the World's best, he's even tired of winning it all with Barça and Spain hasn't he. Xavi's only auto which is limited to /25 generally sells within the range of $500.00 and a cool grand.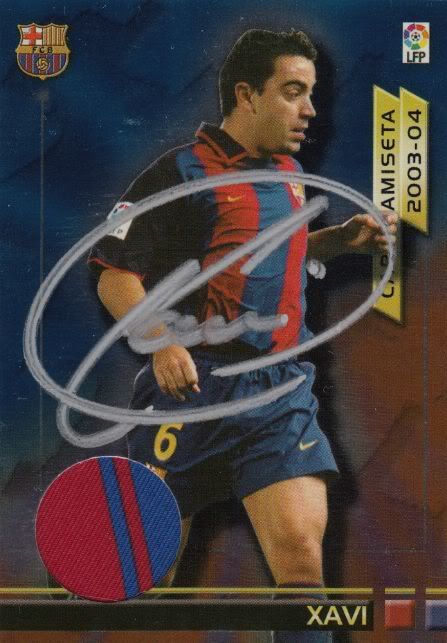 Honorable mentions for players like Adriano (of Inter fame), Anelka, Ballack, Chiellini, Clint Dempsey, Deschamps, Fàbregas, Forlán, Gascoigne, 'Pipo' Inzaghi, Henrik Larsson, Lúcio, Rafa Márquez, Michael Owen, Puyol, Rui Costa, Schmeichel, Scholes, Shearer, Valderrama, van der Sar, van Nistelrooy, Zamorano and Javier Zanetti, who all have valuable signed cards but don't quite crack the elite list.
Some notable all time greats who do NOT have any certified autos include, Franz Beckenbauer, Johan Cruyff, Diego Maradona and Zinedine Zidane.
While other greats such as Eusébio, Facchetti, Shilton and Ian Wright do have autos which can all be had for well under $100.00 and in the cases of Eusébio and Shilton under $25.00!
Ones to look out for in the future include:
Javier 'Chicharito' Hernández - A massive fan favorite among Mexico and Man Utd fans alike, the sweet pea has no reputable certified autos to speak of but he does have a dubious Futera auto which regularly sells for 3 figures in the rare case that it does surface. If he were to have a Panini, Topps, or UD auto, I'm sure plenty of collectors would be willing to pay big money to pick one up, I know I'm one of them.
Lionel Messi - Despite there already being ongoing debate about Messi being the greatest of all time, Messi does not have a certified autographed trading card as of yet, I doubt he even has one of those shitty Futera ones. I don't know why Panini hasn't been able to secure Messi's signature for any of their collections but if they or any other company (SportKings anyone?) did produce one I'm certain collectors would be falling over themselves to obtain one. It'd surely cost a fortune to get your hands on one though.
UPDATE: Since this original post Messi has had his own card collection released in Japan by Icons. The few autos I've seen surface have all sold for well over 1,000.00 USD!
Neymar - I'm not really sold on Neymar being a bona fide superstar, yet. Until he proves himself in Europe, I see him as another Robinho type who possibly lacks the temperament and maturity to be a legit World class player. If he goes across the pond and does indeed prove himself as an elite player I could see his potential future autos doing very well.
Wayne Rooney - Even though he's already a well established superstar Rooney does not yet have a certified auto but once he does I reckon it will cost a small fortune seeing as how Man Utd is probably the most popular football club among card collectors.
Luis Suárez - The controversial Liverpool star has some Futera autos out there but if a major company were to release a certified auto I'm thinking that would take his cardboard sigs to the next level, value-wise.