Originally posted on 31 January 2012.
Unfortunately it appears this product has tanked. Sales don't appear to be very strong as sealed boxes which began at around $180.00 per box online, have already been reduced in price several times by the major retailers I've seen. There are however several singles which are quite innovative in the soccer card World and they selling very well on the secondary market. Specifically the 'supreme fabrics' jumbo patch cards and especially the 'by the letter' nameplate patch cards.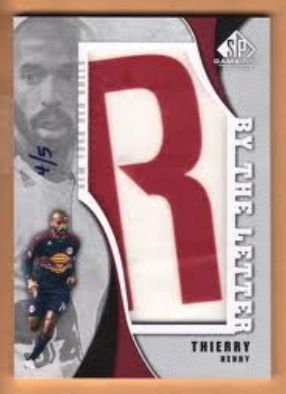 The jumbo patches are generally selling from about $30.00 to $50.00 and this includes scrub players, which In the grand scheme of things, most MLS players would fall into this category. The letter patch cards though are the real attraction though with the going prices currently at about $150.00 to $200.00, the few superstars seen so far, namely Beckham and Henry, are commanding much higher prices. It looks as if SPGU soccer is destined to continue falling in price since nobody seems to be busting any of this product, I see relatively very few singles on eBay.
If this type of high end format and brand were applied to say a Champions League or Premier League product I have no doubt this would be a winner even at the original price point dare I say.